---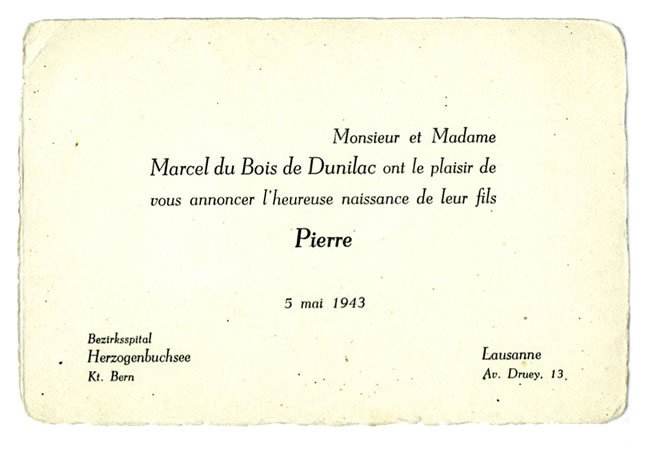 1943
Born 5 May in Herzogenbuchsee, Swiss-German Switzerland, where a large number of his family live. May 5 was also the date of birth of Karl Marx which, he felt, always slightly worried his mother…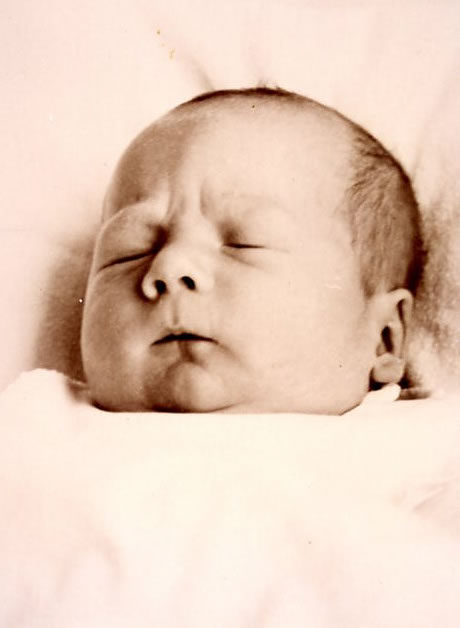 1) Birth announcement
2) Photo taken on 9 May 1943, when Pierre was four days old..
---
---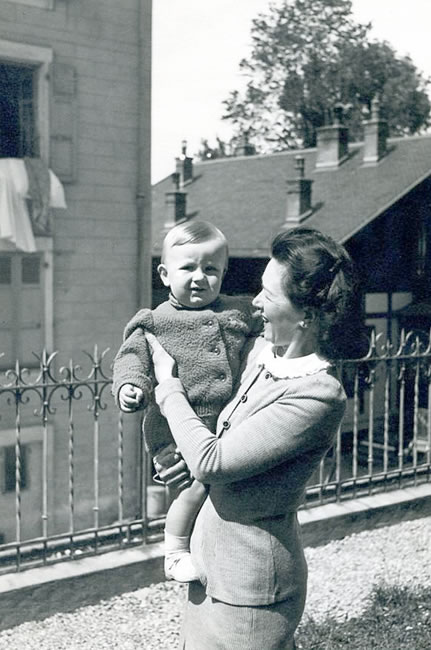 1945 – 1947
Lives in Tanger, which was to play a significant role in his life.
In his mother's arms, 1944
---
---
1947
His father dies in Tanger, Pierre returns to Switzerland with his mother.
In his father's arms, at the age of three
---
---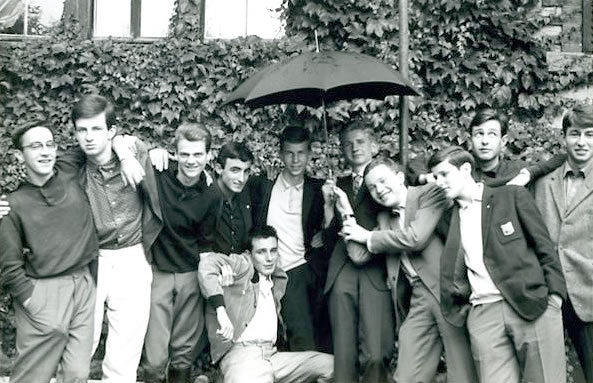 1950
Ecole Nouvelle de la Suisse Romande in Chailly, then Collège de Béthusy and Gymnase de la Cité in Lausanne, where he gains his college diploma in 1962.
---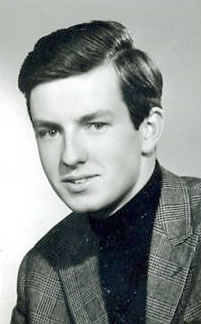 1) Wednesday 11 July 1962, 6h20 in the morning, with his college friends after a sleepless night. (Pierre is second from left)
2) Pierre at 17
---
---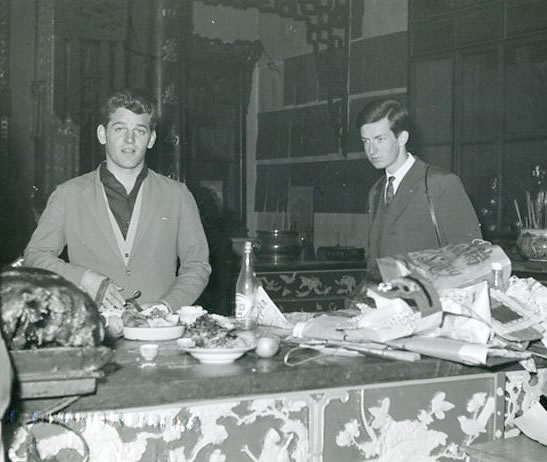 1961
Still at college, wins the first prize in a general knowledge radio competition "Echec et Mat", a question and answer quiz organised by the Radio Suisse Romande: a trip around the world with Swissair, which he took over three months the following year. He made the front page of the newspapers: the first participant to win the first prize in general knowledge and at such a young age!
Pierre in Thailand during his trip around the world – he lost 6 kg in one night of 'indigestion'…
---
---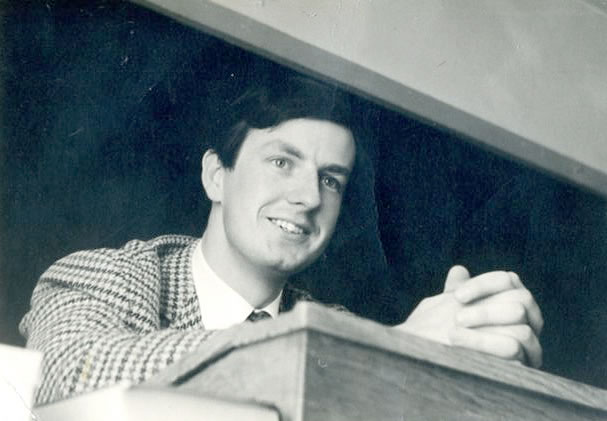 1964 – 1966
Foreign policy editor at the Radio Suisse Romande (RSR) in Lausanne. Pierre discovers his passion for the media – radio, newspapers, later television – which never left him. He works in radio and many newspapers, dailies, journals and magazines, in Switzerland and abroad, where he tackles a rich and extraordinarily diverse range of themes, testimony to his enormous intellectual curiosity, his exceptional knowledge and his need to share. His last interview, on the question of security, is broadcast posthumously by RSR, for the Géopolis programme, on 16 August 2007. It had been recorded in May 2007.
Pierre teaches history to college students, not much younger than he was
---
1965
Masters in Political Science from the University of Lausanne
---
1966 – 1968
Historical chronicler at the Feuille d'Avis in Lausanne.
---
1967
Three month trip to Africa. On behalf of various media, he meets and interviews, among others, Léopold Sedar Senghor (President of Senegal), Mokhtar Ould Dada (President of Mauritania), Modibo Keita (President of Mali).
---
1967 – 1968
Founds and develops in Lausanne the Club Jean Davel, centre for politicial thought. This brings together the cream of intellectuals, future academics, journalists, the men and women in the political foreground.
---
---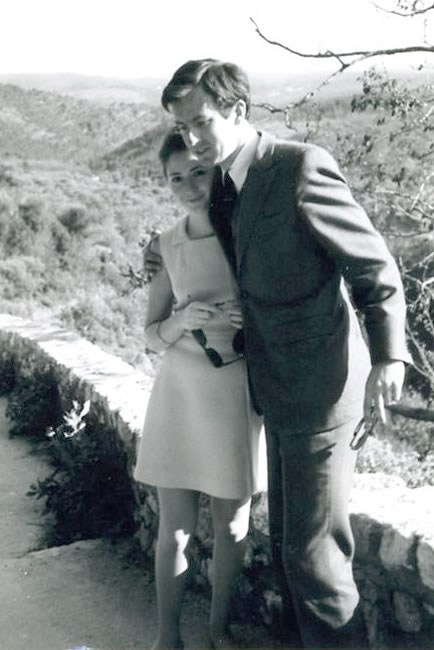 1968
Returns from Paris, where he received a moderate beating during the riots in May of that year, meets Miss Irina Tamas in Lausanne on 21 June. Irina, a Romanian emigrant to Germany, was a chemistry student at the Ecole Polytechnique de l'Université de Lausanne (later the EPFL), who becomes his wife and shares all his life . Pierre gives Irina new roots in life, confidence and courage, he not only opens his arms wide to her but also the windows on life, he broadens her horizons, he helps her to discover and to understand everything. They will build their life together, full of love, happiness, work, small and large celebrations – with a bottle of wine every evening and music, Gyspy, Latin-American, Yiddish and others – and of successes.
Masters in History from the University of Lausanne.
First trip to the Republic of Ireland. Pierre has a fascination for the Irish situation and, over the next 30 years, travels regularly to Northern Ireland and to the Republic.
May 1969, Pierre and Irina take their first trip together to the south of France
---
1968 – 1970
Awarded a scholarship and finishes post-graduate studies at the Fondation Nationale des Sciences Politiques in Paris. He follows the seminar of Raymond Aron at the Ecole pratique des Hautes Etudes, and is passionate for new learnings in history and for The Annales. Makes friends with Fernand Braudel, Emmanuel Le Roy Ladurie, Louis Aragon and Elsa Triolet. Starts his PhD on Drieu La Rochelle, which he continues and later finishes in Lausanne
---
---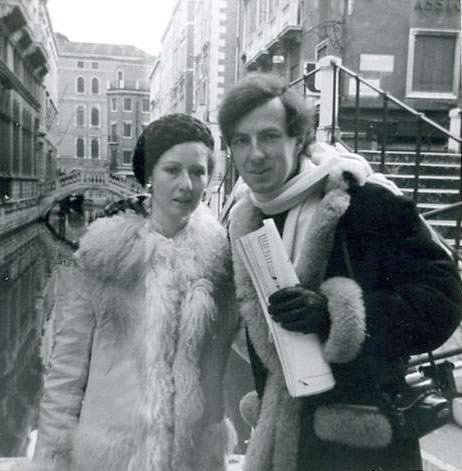 1969
First trip, with Irina, to Venice, which they fall passionately in love with and which will become their 'second home'.
Sets up the first monthly newspaper for Swiss-French area, 'Nonante', and becomes its Editor in Chief . Due to lack of finances, only one edition is published.

One of the first photos of Pierre and Irina in Venice, early 1970
---
---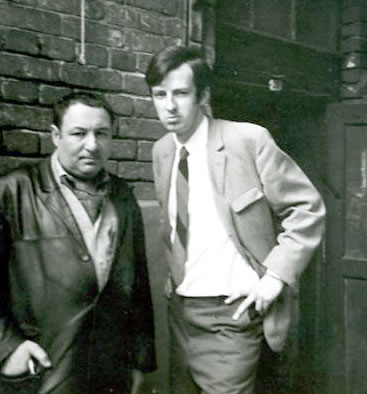 1970
First trip to the USSR, which he returns to regularly and whose history and evolution he follows with great interest. He has a passion throughout his life for all aspects of East-West relations and they constitute one of his main fields of work. He visits all the Eastern European countries.
Irina receives her Masters in Chemical Engineering from the Ecole Polytechnique Fédérale de Lausanne (EPFL).

Moscow, September 1970, Pierre with the famous Russian sculptor Ernst Neizvestny
---
1972 – 1978
History Professor at secondary school level in Lausanne.
---
---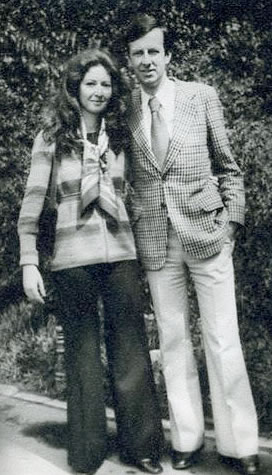 1976
First trip to Romania with Irina, for whom this is a return to her roots. They travel there regularly over the next 30 years. Pierre becomes a great expert in Romania, which shows up often in his publications, colloquia and his teachings.
He takes Irina to Tanger for the first time.
Irina starts at Nestlé, in Vevey, where she will pursue a long and happy career for more than 30 years. Pierre urges and supports her in her professional life in a way that few men would support their wives.

April 1976, Pierre and Irina for the first time in Bucharest, here in the Cismigiu garden
---
1977 – 1985
Lecturer in contemporary history at the Ecole polytechnique fédérale de Lausanne (EPFL).
---
---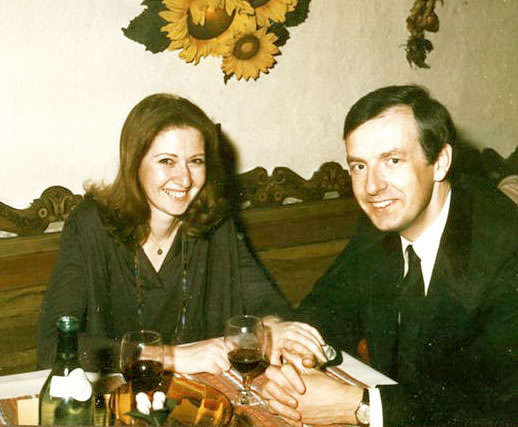 1978
Obtains his PhD in History from the University of Lausanne.

Pierre and Irina at the Piroschka restaurant, in Munich, 1980, during their period of sleepless nights at the cabarets for Hungarian gypsy music
---
---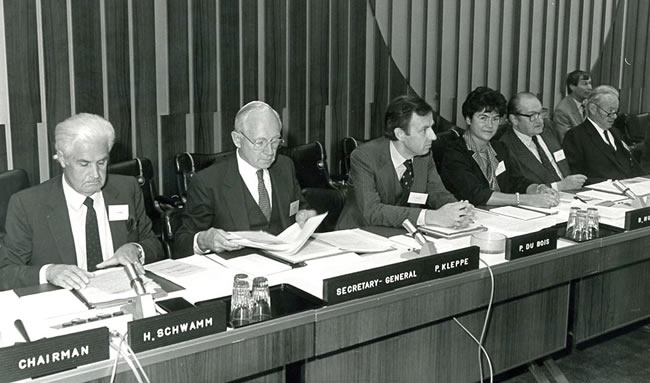 1980 – 1992
Professor at the Institut Universitaire d'Etudes Européennes de Genève. Starts to become fascinated with the European community, the history of its integration, its identity, the history of its relations with Switzerland, of its evolution, its growth, European monetary history, cultural history. Europe becomes one of the principle areas of his teachings, research and publications.
Pierre organises, with Bettina Hurni, one of the most beautiful colloquia on the EFTA from yesterday to tomorrow. Geneva, 25 September 1986 ©Jean Zbinden
---
---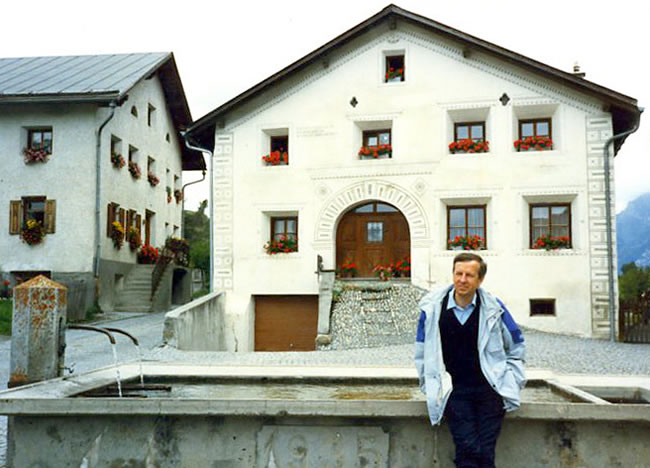 ---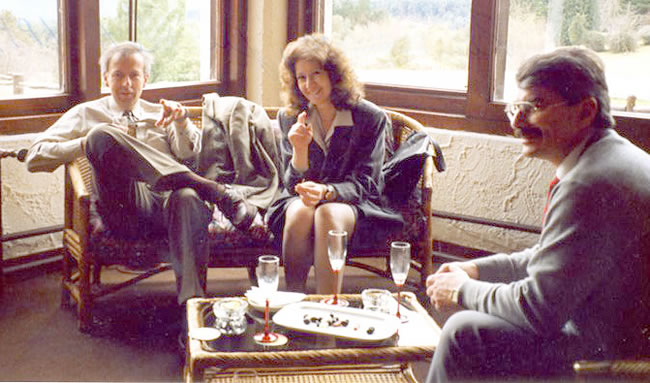 1981
First trip, with Irina, to Sils-Maria, in Grisons, with which they fall in love and where they return almost every year after.
Spends several weeks, with Irina, in the USA.
First trip to Latin America, to Mexico. He is fascinated by this continent, for its history and its turbulent 20th century, but also the warmth of its people. He loves the language, the culture, the music. He travels regularly, alone and with Irina, in Latin America and visits Argentina, Chile, Colombia, Cuba, Ecuador, Paraguay, Peru and Uruguay.

1) Pierre in Zuoz, in Grisons, September 1988
2) Pierre and Irina in Chili in 1992
---
1986 – 1994
Invited Professor at the Diplomatische Akademie in Vienna, Austria.
---
---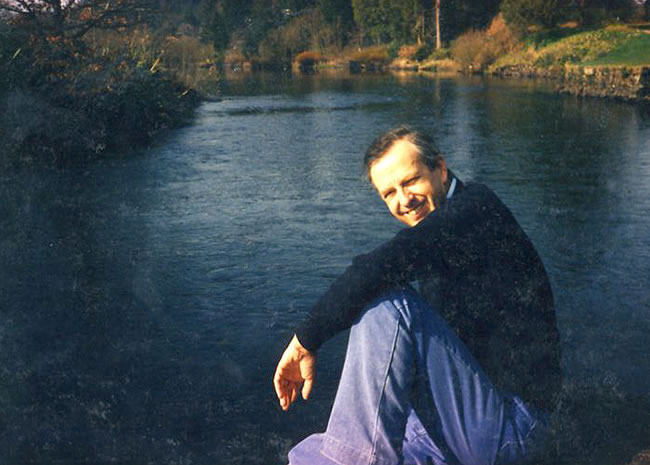 1986 – 2000
Associate Professor at the University of Neuchâtel.

Pierre in Connemara in the Republic of Ireland, 1988
---
1990 – 2007
Invited Professor at the Robert Schuman University in Strasbourg, France.
---
---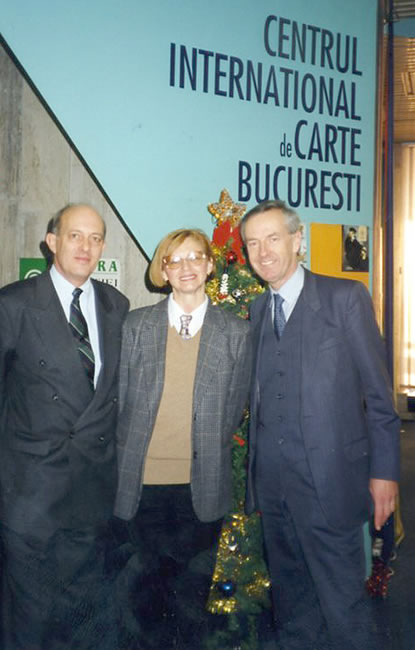 1991, 1993 – 2005
Professor at the Summer University of the Foundation Titulescu/Ministry of Foreign Affairs of Romania.

Pierre in Bucharest, December 1998, during the launch of his book "Ancheta asupra unei ascensiuni: Ceausescu la putere" (with the Swiss Ambassador to Romania, Mr Jean-Claude Joseph)
---
---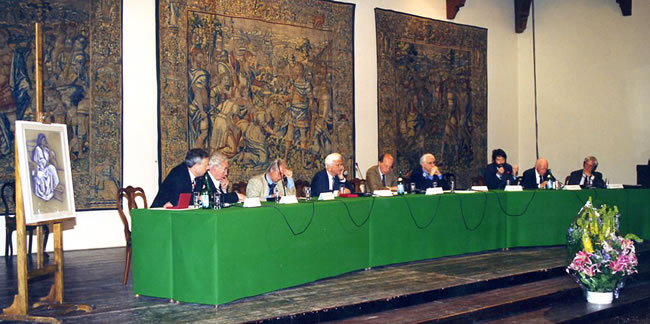 ---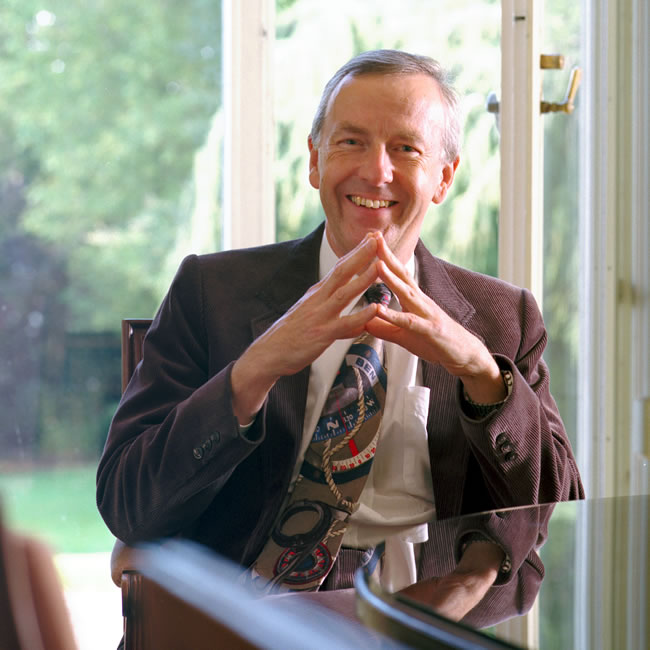 ---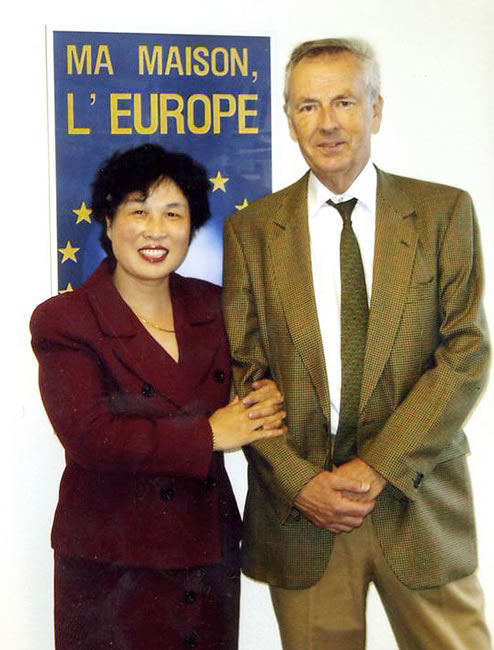 ---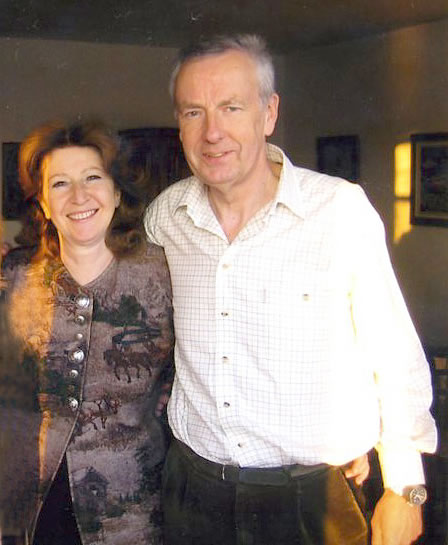 1992 – 2007
Professor at the Graduate Institute of International Studies (HEI) in Geneva. "Our best years", Pierre was living the most splendid and fertile time of his life, from all points of view. His research testifies to this, his teachings, his long list of publications, his trips, his commitments. He adores the institute and its students who give so much back to him. He is ambitious for them, supports and pushes them to succeed in their degrees, their theses, their lives
He is a member of many leading and scientific committees: Swiss Association for Wilton Park (1984-1994), Forum Helveticum (1987-2001, Vice-president 1992-2001), Rencontres suisses (1987-2001, President 1996-2001), Cercle littéraire de Lausanne (from 1989), Foundation Titulescu (from 1990), Société européenne de culture (from 1990), European Community Studies Association (from 1995), Europaeum (1995-2001), Fondazione Venezia per la ricerca sulla pace (from 1997), Société d'études économiques et sociales (from 1998), Centro per la diffusione della cultura (from 2000), Kommission für die Diplomatichen Dokumente der Schweiz (from 2000).
He is member of several editorial committees: Revue d'Allemagne, Dosarele Istoriei, Revue roumaine d'histoire, Relations internationales (Co-president from 1998), Limes, Revue française de géopolitique, Studia Politica/Romanian Political Science Review.
1) Pierre takes part in a round table in Venice organised by the SEC (Société européenne de culture) on "La politique de la culture aujourd'hui"., on 20 June 1998. Photo shows Mr R. von Weizsäcker, former president of the Federal Republic of Germany , Mr V. Capeletti, President of the SEC, Mr P. Costa, Italian Minister of public works, Mr. M. Cacciari, Mayor of Venice ©Sergio Martucci
2) Photo HEI
3) Pierre and Dr. Laxiang Zheng (from Guangdong), during her thesis examination, 11 July 2006, at the Institut de hautes études internationales, in Geneva.
4) Pierre and Irina in Venice, 26 December 2006. They returned in April 2007, but this is their last photo taken in Venice
---
---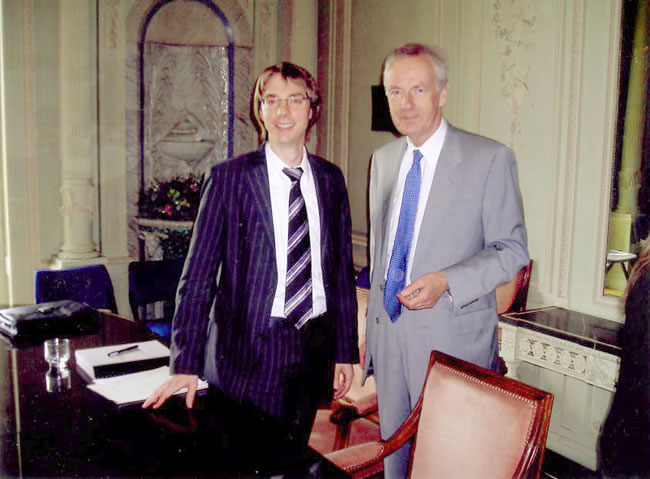 7 May 2007
Thesis defence of Basil Germond, HEI, Geneva, the last to obtain his PhD with Professor Pierre du Bois.

Pierre and Dr. Basil Germond, during his thesis examination, 7 May 2007, at the Institut de hautes études internationales, in Geneva. Basil is the last to obtain his PhD with Pierre.
---
23 June 2007
Sudden, cruel and unexpected death of Pierre, at the age of 64, from an acute coronary obstruction, one Saturday afternoon after he had returned from the swimming pool. Irina loses the love of her life.