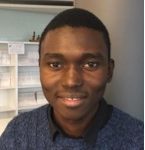 Daniel Dossou Nonvide currently holds the Pierre du Bois Scholarship for the year 2018-2019.
He is from Benin where he obtained his Bachelor's degree in History before joining the Graduate Institute in 2016.
Having freshly completed his Masters in International History, he is now pursuing his Ph.D. in the same field. His research seeks to analyze the political repercussions of the League of Nations' mandates system in Cameroon and to explore the lives of German Jews living in the African mandate territories during the interwar period. His areas of interest include the League of Nations, international politics, conflict resolution, migration, and humanitarian action.