The Prix Pierre du Bois was awarded on 17 September 2010 to Dr. Anne-Sophie Bentz for her thesis on «Le nationalisme et l'exil : le cas des réfugiés tibétains en Inde» .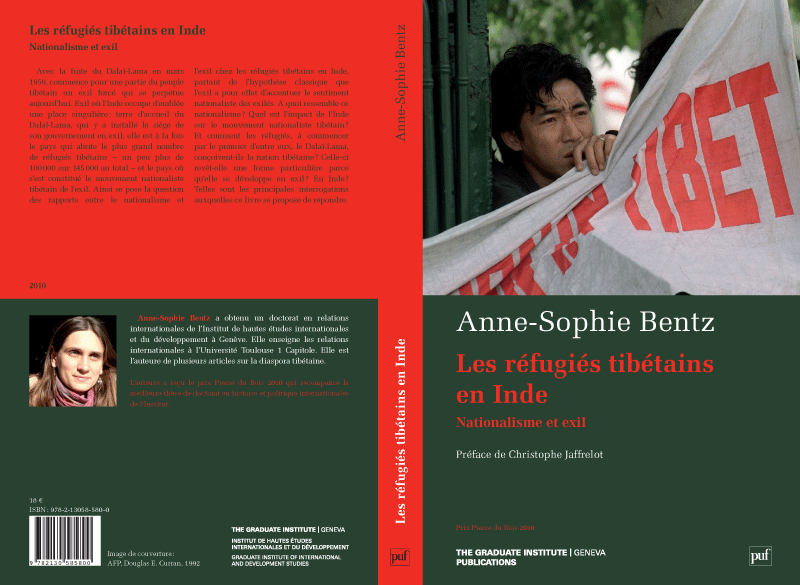 Given its outstanding quality, the work by Anne-Sophie Bentz is published as « Les réfugiés tibétains en Inde. Nationalisme et exil » in the Graduate Institute Geneva Publications series in cooperation with Presses Universitaires de France.
Cette thèse interroge les rapports entre le nationalisme et l'exil chez les réfugiés tibétains en Inde. Deux questions ont guidé la réflexion de l'auteur : celle de l'existence de la nation tibétaine – « y a-t-il une nation tibétaine ? » –, qui conduit progressivement à l'autre question, celle de l'autodétermination éventuelle de la nation tibétaine – « la nation tibétaine doit-elle (re)devenir un Etat indépendant ? ». L'hypothèse qui sous-tend ce travail est que la nation tibétaine est, paradoxalement, une création de l'exil. Sont analysés successivement l'applicabilité des théories du nationalisme au cas tibétain, les différentes interprétations de l'histoire du Tibet, les principaux acteurs de la nation tibétaine, à savoir, le Dalaï-Lama et les réfugiés tibétains, qui ont été interrogés dans les camps de réfugiés en Inde au cours d'enquêtes de terrain, la place de l'Inde dans le développement du nationalisme tibétain, ainsi que la question du Tibet dans les relations internationales.
The Pierre du Bois Prize is awarded annually to the best doctoral thesis in contemporary history written in the International History Department at the Graduate Institute for International and Development Studies in Geneva. It is worth 5000 CHF.