In September 2018 the Graduate Institute in partnership with the Pierre du Bois Foundation inaugurated a new position titled Pierre du Bois Chair Europe and the World. The new position is an illustration of the commitment the Pierre du Bois Foundation has to the advancement of historical research and teaching at the Graduate Institute.
The first holder of the Chair was Professor Michael Goebel, from 2018 to 2021. Since September 2021, he has been the Einstein Professor of Global History at Freie Universität Berlin. A search for his replacement at the Graduate Institute is under way.
Professor Michael Goebel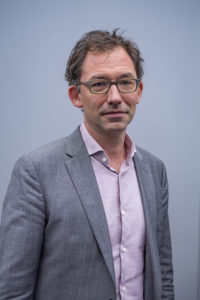 Professor Michael Goebel was the first holder of the Pierre du Bois Chair. Prior to joining the Institute in 2018, Michael Goebel was Associate Professor of Global History at Freie Universität Berlin. His latest book, Anti-Imperial Metropolis: Interwar Paris and the Seeds of Third World Nationalism, was published by Cambridge University Press in 2015. The book examines the relationship between nationalist movements and their leaders many of whom spent their intellectually formative years in European centers. An interview about the book can be viewed here. Additionally, the book won the Jerry Bentley Prize in World History from the American Historical Association in 2016.
Michael Goebel began as an intellectual historian of Latin America, but he has grown increasingly interested in the intersection of global and urban history in the nineteenth and twentieth centuries. In July 2014 he received his Habilitation in Modern History. In 2012–13 he was a John F. Kennedy Fellow at the Center for European Studies at Harvard University and in 2008–11 Marie Curie Fellow at the European University Institute, Florence. The latter led to his first book titled Argentina's Partisan Past: Nationalism and the Politics of History published in 2011 by Liverpool University Press.
His articles on the history of migration and the global history of nationalism have appeared in journals such as The American Historical Review, Past and Present, and Geschichte und Gesellschaft. Additionally, Professor Michael Goebel is a co-founder of the Global Urban History blog.