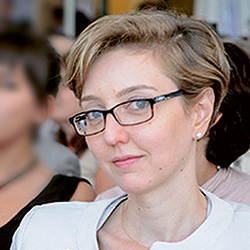 Francesca Piana
Francesca Piana is a historian of European and international history. Her research and teaching encompass international organizations, transnationalism, humanitarian aid and the missions, migration, women and gender in 20th century Europe.
From 2016 to 2017, Francesca was a Postdoctoral Fellow in women's and gender history at Binghamton University and the Journal of Women's History. From 2013 to 2016, she was a Postdoctoral Fellow of the Swiss National Science Foundation at Columbia University, the University of Michigan, and Birkbeck College.
Francesca is completing her first monograph entitled 'Humanitarianism in Practice. Europe and its Displaced Populations after World War I'. She is also co-editing with Jo Laycock the volume 'Aid to Armenia. Humanitarian Aid, Relief, and Interventions from 1890s to Present', which is under contract with Manchester University Press.
Francesca holds a PhD in International History and Politics from the Graduate Institute of International and Development Studies, for which she obtained the Pierre du Bois Prize in 2013.
Selected publications:
Referred articles
"The Dangers of 'Going Native': George Montandon and the International Committee of the Red Cross, 1919-1922," Contemporary European History 25, Special Issue no. 02 (2016): 253-274.
"L'humanitaire d'après-guerre: prisonniers de guerre et réfugiés russes dans la politique du Comité international de la Croix-Rouge et de la Société des Nations," Relations internationales 151, no. 03 (2013): 63-75.
"Humanitaire et politique, in medias res: le typhus en Pologne et l'Organisation Internationale d'Hygiène (1919-1923)," Relations internationales 138, no. 02 (2009): 23-38.
Book chapters
"Photography, Cinema, and the Quest for Influence: the International Committee of the Red Cross in the Wake of the First World War," eds. Heide Fehrenbach and Davide Rodogno, Humanitarian Photography: A History. Series on "Human Rights in History." New York: Cambridge University Press, 2015: 140-164.
"International Humanitarian Associations in Poland 1918-1923," with Davide Rodogno and Shaloma Gauthier, Shaping the Transnational Sphere: the Transnational Networks of Experts (1840-1930), eds. Bernard Struck, Jakob Vogel, and Davide Rodogno. New York: Berghahn Books, 2014: 259-278.
"Two Eras of Refugee Policy. The Legacies of the League of Nations in the 1940s," Ideas and Identities. A Festschrift for Andre Liebich, eds. Jaci Eisenberg and Davide Rodogno. Bern: Peter Lang, 2014: 83-101.
"What Does Transnational History Tell Us about a World with International Organizations? The Historians' Point of View," with Davide Rodogno and Shaloma Gauthier, Routledge Handbook of International Organizations, ed. Bob Reinalda. London: Routledge, 2013: 95-104.