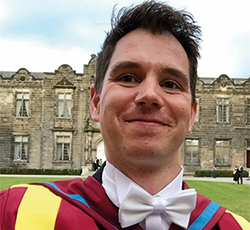 Bernhard Blumenau
Bernhard obtained a PhD in International History and Politics from the Graduate Institute in Geneva. In his dissertation he assessed West Germany's efforts against international terrorism in international organisations in the 1970s. He also holds a MA in International Studies from the Graduate Institute and a B.A. in International Relations from the School of International Studies/ University of Dresden in Germany. During his undergraduate studies, he also spent a semester at the University of Gothenburg in Sweden. Bernhard is currently a lecturer at the Centre for the Study of Terrorism and Political Violence (CSTPV) of the University of St Andrews.
His interests lie in the fields of the history of terrorism and antiterrorism, German foreign politics, the Cold War, and transatlantic relations since World War II. More information on him can be found here.
Selected Publications
Books
The United Nations and Terrorism: Germany, Multilateralism, and Antiterrorism Efforts in the 1970s. Basingstoke: Palgrave Macmillan, 2014.
An International History of Terrorism: Western and Non-Western Experiences. Co-edited with Jussi Hanhimäki. London: Routledge: 2013.
Peer-reviewed Articles
"'The Group of 7 and International Terrorism: The Snowball Effect That Never Materialised." Journal of Contemporary History, forthcoming.
"Taming the Beast: West Germany, the Political Offence Exception and the Council of Europe Convention on the Suppression of Terrorism." Terrorism and Political Violence27, no. 2 (2015), 310-30.
"The Other Battleground of the Cold War: The UN and the Struggle against International Terrorism." Journal of Cold War Studies 16, no. 1 (2014), 61-84.
"The European Communities' Pyrrhic Victory: European Integration, Terrorism, and the Dublin Agreement of 1979." Studies in Conflict & Terrorism 37, no. 5 (2014), 405-421.
Book Contributions
"Einsam oder doch Gemeinsam? Bundesdeutsche und Westeuropäische Anti-Terrorismus-Politik in den Vereinten Nationen." In Terrorismusbekämpfung in Westeuropa: Demokratie und Sicherheit in den 1970er und 1980er Jahren, edited by Johannes Hürter. Munich: Oldenbourg, 2014.
"The United Nations and West Germany's Efforts against International Terrorism in the 1970s." In: Hanhimäki, Jussi and Bernhard Blumenau (eds.). An International History of Terrorism: Western and Non-Western Experiences. London: Routledge, 2013.
"West Germany and the United States during the Middle East Crisis of 1973: 'Nothing but a Semi-Colony'?. In: Hanhimäki, Jussi, Georges-Henri Soutou and Basil Germond (eds.). The Routledge Handbook of Transatlantic Security. London: Routledge, 2010.
"Deutschland und die europäische Rüstungskooperation: Perspektiven für einen hochsensiblen Politikbereich". Together with Joris Larik, Felix Groba and Dana Rosen. In: Niemann, Arne and Alexander Brand (eds.). Aktuelle Probleme deutscher und europäischer Außenpolitik: Interessen und Handlungsspielräume. Dresden: TUDpress, 2007.
He also regularly contributes papers to the series Papiers d'actualité/ Current Affairs in Perspective of the Foundation.