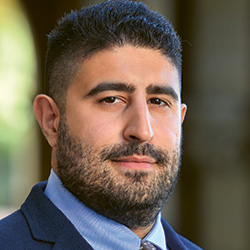 Farzan Sabet
Farzan Sabet is a doctoral candidate in International History at the Graduate Institute, Geneva. His doctoral research focuses on diplomatic, Cold War, and international nuclear history. Farzan also works on the history of and present day Iranian domestic politics, foreign policy, and national security. He is the co-founder and managing editor of IranPolitik.com, an independent website that focuses on delivering high quality content on the changing dynamics of Iranian domestic politics and foreign affairs and their social and economic context.
Selected Peer-Reviewed Publications
Sabet, Farzan, and Roozbeh Safshekan, "Soft War: A New Episode in the Old Conflict Between Iran and the United States," Iran Media Program, University of Pennsylvania (2013): 1-26.
Sabet, Farzan, "Iran: Resolving the Nuclear Crisis," Journal of Public and International Affairs (2013): 74-92.
Selected Media Articles
Sabet, Farzan. "Military Intervention, Iranian-style." Web log post. War on the Rocks, 30 June 2014. Web.
Sabet, Farzan, and Aaron Stein. "Iran's Delicate Nuclear Consensus." Editorial. Monkey Cage Blog. Washington Post, 29 May 2014. Web.